We have written more than twenty books on the history of gastronomy and Italian products, from Nutella to street food, from chocolate to wine. Some have been translated into several languages: English, French, German, Dutch, Turkish, Chinese, Russian.
The last book we wrote together is called "Tiramisu - History, curiosity, interpretations of the most loved Italian dessert" (Giunti, 2016, 160 p.) and at the moment it has been published only in Italian.
We have performed a thorough research on this dessert famous all over the world and we have told its true story, discovering its roots in Friuli Venezia Giulia, in Pieris (Go) and Tolmezzo (Udine). Then from Treviso, Venice, Rome it became famous all over the world.
In our travels in the United States, Australia, Europe, Central and South America we have always found an interpretation of tiramisu. This is why we came up with the idea of ​celebrating it in a significant day: March 21st, the first day of spring.
Eataly has taken up this delicious idea and during the #tiramisuday in about 34 stores around the world it will offer its customers the authentic recipes of Friuli and Veneto.
Our biographies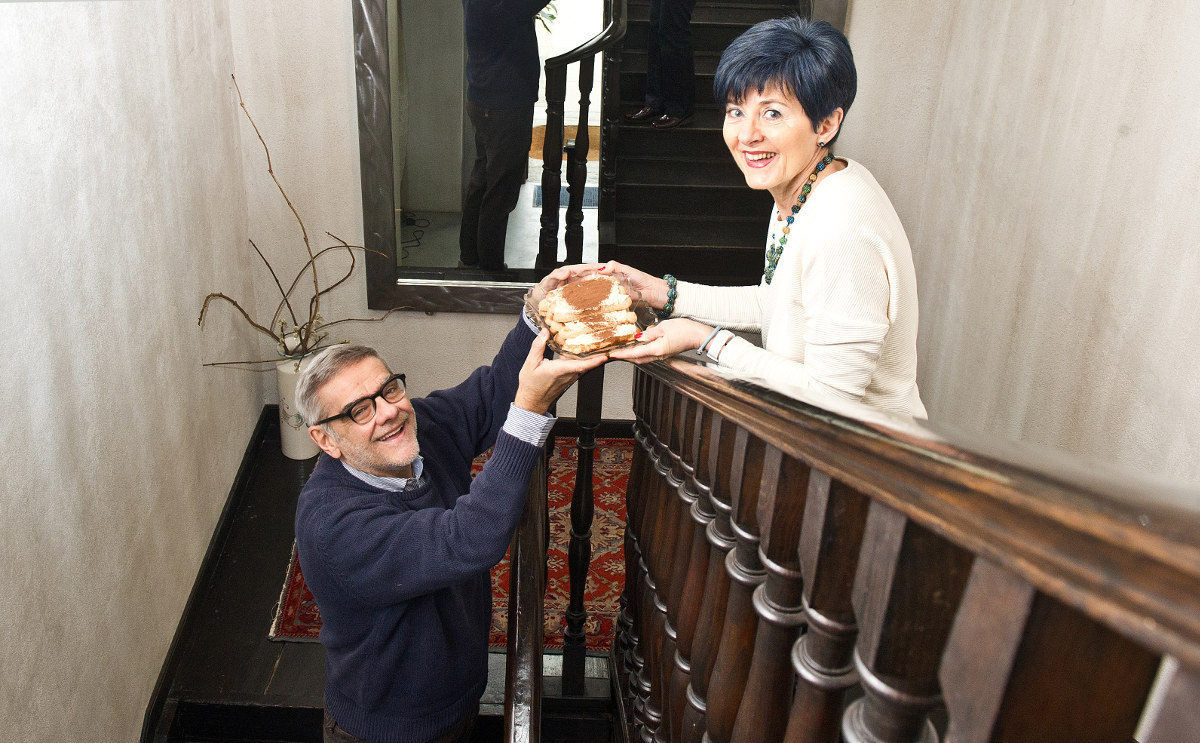 Clara and Gigi Padovani have been defined the "the fondente couple of Italian food writing". They were born in Alba (Cuneo), they met in high school and both together or alone they have written dozens of books, many of which translated in different languages. He is a journalist, she is a former professor of mathematics, always been passionate about the history of gastronomy.  As food critics, they collaborate with the newspaper "Leggo" and some magazines.
For the editor Giunti, Clara Vada Padovani published "Passione Nutella" (2010, three editions, translated into three languages), 'Bread and Nutella' (2012, with Piergiorgio Giorilli) and "Niko, Real simplicity" (with Niko Romito, Giunti 2009, awarded in "bancarella cucina"), as well as "dolci del sole"(with S. De Riso, Rizzoli 2008).
Together, Clara and Gigi wrote: "Conoscere il cioccolato" (Ponte alle Grazie, 2006, awarded by the "Bancarella cucina"), "Gianduiotto mania" (Giunti, 2007), "Italia buon Paese" (Blu Editions 2011), "Street food all'italiana" (Giunti 2013), Tiramisu.  Storia, curiosita, interpretazioni del dolce italiano piu amato" (Giunti, 2016, three editions). Last books by Gigi Padovani: "Nutella.  Un mito italiano (Rizzoli 2004) "Slow Food Revolution" (Rizzoli 2005, translated into three languages), "Mondo Nutella" (Rizzoli ETAS, 2014, translated in English), L'arte di bere il vino e vivere felici" (Centauria, 2016).
They've received many prizes and awards in Italy. Among them, the Award "Libri da gustare"'and the''Eurochocolate Award" in 2000, for the book "Gnam Storia sociale della Nutella". They won the "Paracucchi Award 2007" to Bancarella cucina of Pontremoli, with "Conoscere il cioccolato". In December 2013 the book "Street food all'italiana" won the first National Prize "L'italia della tipicita-Enogastronomia e cultura", organized by the Italian Association of book in collaboration with Res Tipica and ANCI (National Association of Italian Municipalities). In 2015 Gigi Padovani was nominated expert of the National Centre for Studies and Italian Academy of the Kitchen, and in 2017 he was awarded with the "Prix de la Littérature Gastronomique" by the Académie Internationale de la Gastronomie.